In the wake of the COVID-19 pandemic, Northland Properties' Sutton Place Hotels sought to welcome travelers back to their hotels while ensuring sustainability remained high on their agenda. In the summer of 2022, they joined-up with veritree to pilot a restorative partnership, aimed at reducing OPEx, while also providing an engaging guest experience that would give back to nature.
Northland Properties is a leading Canadian-based hospitality company, known for their commitment to environmental sustainability. With a portfolio that includes the Sutton Place Hotels and the Sandman Hotel Group, they are always looking for ways to minimize their impact on the environment and to do more for the planet.
The COVID-19 pandemic has led to inflation in the travel industry, expected to persist until 2025. As travelers seek to get the most value for their money, sustainability continues to be a high priority, however consumers are also more discerning in evaluating corporate environmental efforts. Although there is a growing willingness to pay for sustainable options, transparency is crucial for gaining trust.
To address these challenges, Sutton Place Hotels partnered with veritree to pilot a restorative initiative at their Halifax based hotel. The idea was simple. For every guest who opted-out of housekeeping, ten trees would be planted. By partnering with veritree, Sutton Place Hotels had the assurance that their restorative actions were real, measurable, and verifiable.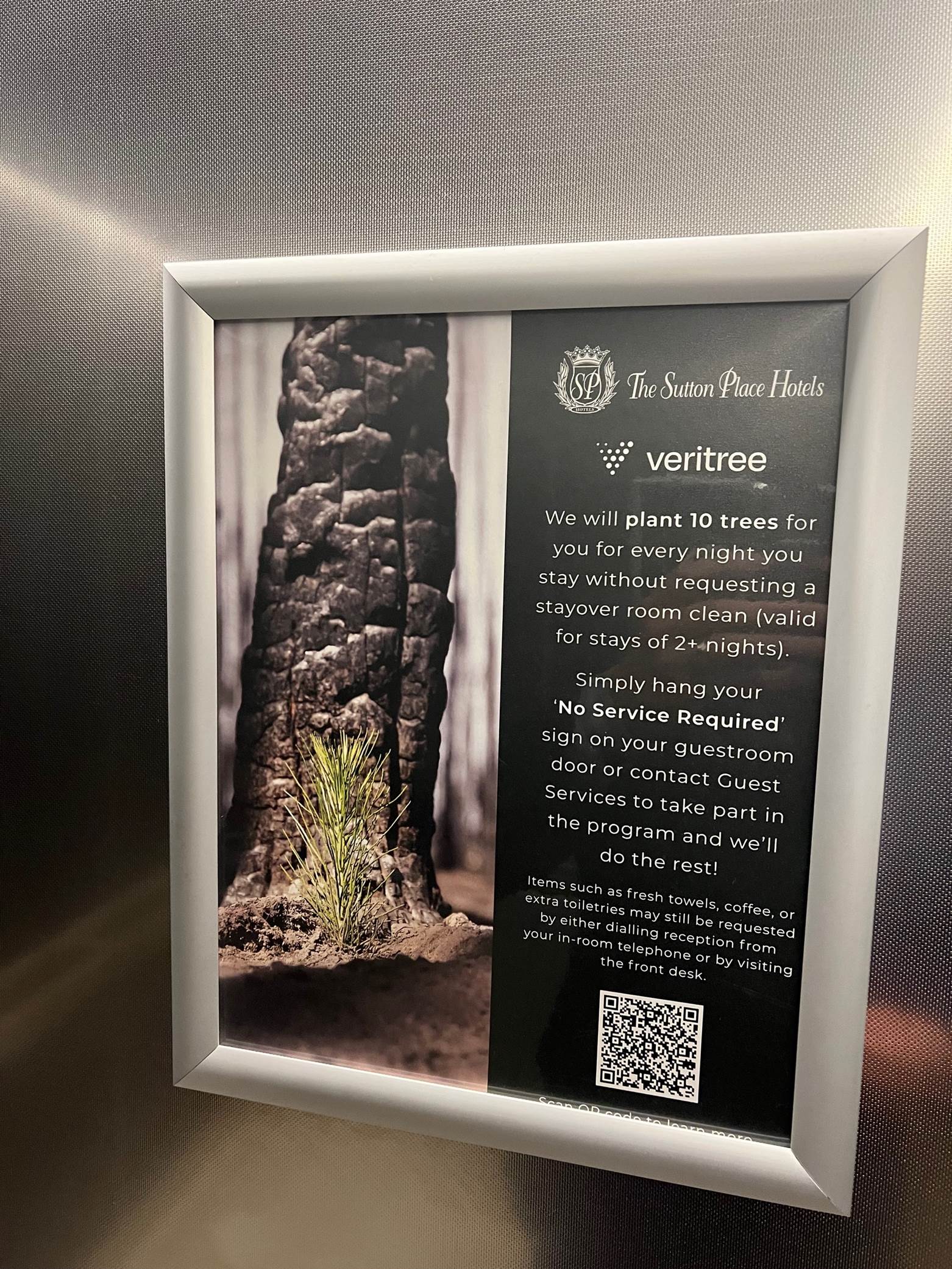 Over a six-month period, housekeeping opt-out rates increased by over 125%, resulting in significant operational cost savings. From a sustainability lens, beyond the reductions in resources like energy and water, Sutton Place has contributed to the planting of over 85,000 trees in Canada and Kenya. These trees will act as carbon sinks, help prevent soil erosion, provide habitat for wildlife, and enhance biodiversity. Due to the resounding success of this program, Sutton Place has since expanded it to its other locations and to its sister company, the Sandman Hotel Group.
This partnership between Northland Properties and veritree serves as a model for how companies can make smart decisions for their business, while providing engaging and trusted guest experiences that are good for the planet. By prioritizing sustainability, Northland Properties have improved their cost efficiency while also making a positive impact on the environment. We encourage other companies to explore similar initiatives and do their part in restoring nature for future generations.
Visit our Impact Portfolio to learn more about their restorative projects and ways in which businesses can partner for the planet.