UK and EU Intensify Scrutiny on Sustainability Claims
Proposed legislations to rein in greenwashing
Amid growing concern that companies are making misleading claims about the environmental impact of their products, the UK's advertising watchdog, the Advertising Standards Authority's (ASA), as well as the European Parliament have come forward to put a stop to misleading ads and generic environmental claims if these are not substantiated or accompanied with detailed evidence.
The use of terms such as 'carbon neutral', 'environmentally friendly', 'net zero' and 'nature positive' will now be increasingly scrutinized, unless companies can demonstrate real evidence to prove their case. The European Parliament also aims to ban environmental claims that are based solely on carbon offsetting schemes.
What is greenwashing?
In the face of growing environmental awareness, numerous companies have sought to align themselves with sustainability, regrettably sometimes through questionable means. This practice, known as greenwashing, involves making deceptive claims regarding environmental practices or products. Greenwashing might be more prevalent than you think, in fact, according to a 2022 Fast Company survey, 68% of U.S. executives admit their companies are guilty of greenwashing.
What are some examples of greenwashing?
KLM - Environmental groups are suing Dutch airline KLM, alleging that advertisements promoting the company's sustainability initiative are misleading. KLM claimed it was "creating a more sustainable future" through their "fly responsibly" campaign that offered a carbon offset product called "CO2Zero".
Ryanair- An investigation was launched into the low-cost carrier after it used claims such as 'Fly greener to [destination],' as such claims could give passengers the impression that they would be flying significantly more sustainably with Ryanair. The Dutch Investigative body argued that Airlines should be adequately clear to passengers on how the carbon emissions are offset, how carbon emissions are compensated, and how all these are calculated.
Arla Foods - A Swedish court banned European dairy major, Arla Foods, from using the term "net-zero climate footprint" in the marketing of its products stating that Arla consumers likely don't understand their promise of net zero is based on climate-compensating activities that could take 100 years to compensate for the climate footprint of milk production.
What do these legislations mean to businesses?
While there has never been a more critical time for businesses to take climate actions on all fronts, businesses should steer clear of making false claims, even if well-intended, when communicating their sustainability efforts. Companies making non-credible claims face significant risks, ranging from loss of reputation due to accusations of overstating climate or environmental performance to potential fines by domestic authorities and litigation. In an era where consumers prioritize sustainability and hold corporations accountable for their environmental impact, any hint of dishonesty can also result in a loss of trust and loyalty.
What can businesses do to avoid greenwashing?
Before making claims about the environmental impacts of their products, companies should follow best practices and well-established frameworks, such as the Science-based Target Initiative, in setting and making progress towards their science-aligned targets. Companies should follow the mitigation framework and prioritize deep and rapid decarbonization across their value chains.
For companies looking to go above and beyond their near-term science-aligned targets, they should channel additional finance towards mitigation activities outside of their value chains to contribute to global net zero. These activities include investing in high-quality nature-based solutions (such as afforestation, reforestation and revegetation) and conservation projects. High-quality projects should take the following factors into account: i) transparency, ii) traceability, iii) permanence, iv) provides co-benefits beyond carbon, v) real, and vi) measurable.
Transparency and verification to rebuild consumer trust
As governing bodies crack down on carbon and sustainability claims, businesses should steer away from making grandiose or false claims when communicating their efforts. Instead, they should focus on providing accurate and evidence-based information when communicating their efforts. This requires ongoing monitoring, reporting, and verifying the impacts of their operations and their sustainability claims.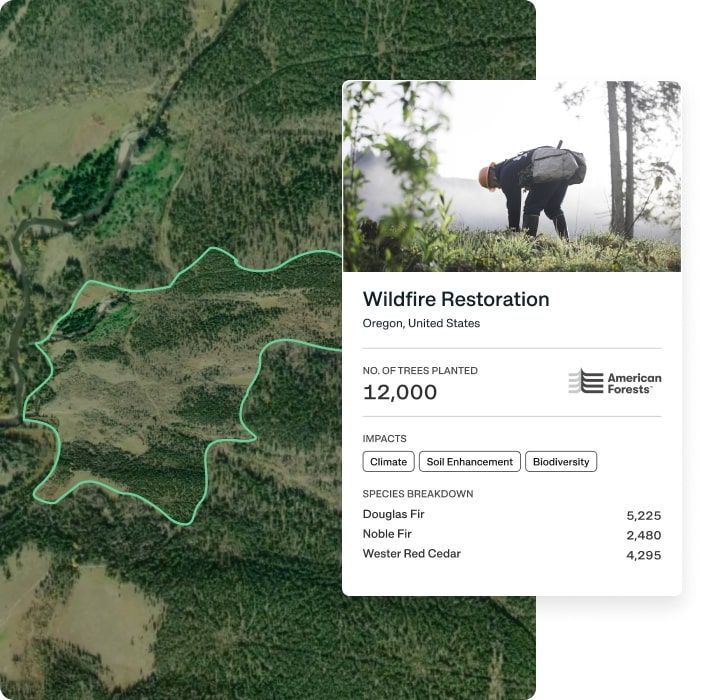 By collaborating with trusted partners such as veritree, businesses can invest in the planet by ensuring transparency and access to evidence in relation to their restorative efforts. Furthermore, in taking measured and verified action, businesses can build an authentic and sustainable brand, fostering consumer confidence in a world increasingly concerned about the environment.
Learn more about how veritree's platform monitors and verifies restorative impact by visiting: https://www.veritree.com/technology