Transforming Landscapes and Lives: Investing in Forest Gardens in Tanzania
Nestled within the heart of Simiyu, Tanzania, a captivating transformation is underway. In collaboration with our planting partner, Trees for the Future (TREES), we are working hand in hand with farmers and communities to employ a Forest Garden Approach towards regenerative agroforestry. This initiative is empowering the community to reclaim their land, breathe new life into the environment and support local livelihoods.
As a region where approximately 80% of the active population of roughly 67 million people, is deeply intertwined with agriculture, and where the sector comprises about 75% of the regional economy, the need for transformation is undeniable. With cotton, peanuts, and sunflowers reigning as the primary cash crops, and staples like maize, sorghum, rice, and cassava nourishing the population, Simiyu is a fertile ground for regenerative agroforestry to flourish.
The traditional agricultural scene in Simiyu faces a critical juncture. The plummeting price of cotton, plunging from $1.525 per kg in 2022 to a mere $0.75 in 2023, has underscored the volatility of relying solely on cash crops. The vision of regenerative agroforestry takes center stage as a holistic approach that not only bolsters food security and nutrition for these communities, it revitalizes the land and reimagines the very essence of sustainable livelihoods.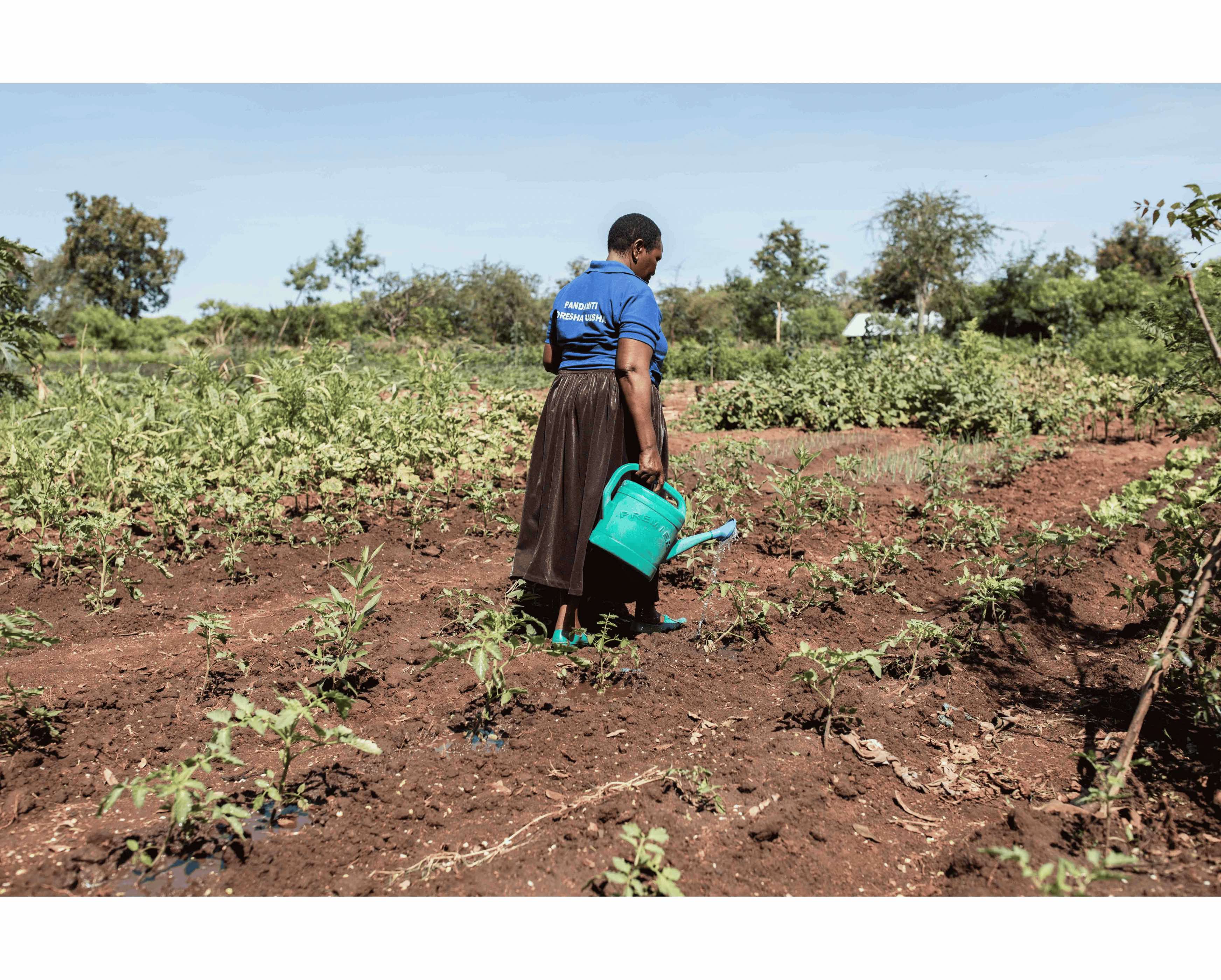 How does it work?
At the core of this regenerative agroforestry technique lies the Forest Garden Approach. Over a comprehensive four-year training program, farmers learn of new ways to restore and protect their land through sustainable practices. The Forest Garden Approach comprises four key components, each playing a crucial role in land rejuvenation and sustainable agriculture.
Protect: Farmers begin by planting a living fence, a vibrant "green wall" consisting of closely-planted trees and bushes. This live barrier not only protects the land but also stabilizes the soil, mitigating erosion and preserving its fertility.
Diversify: The Forest Garden Approach strategically integrates a diverse array of fruit and timber trees with various crops. By doing so, farmers eliminate the need for synthetic fertilizers and embrace a more sustainable and nutrient-rich farming approach. This diversification significantly enhances nutrition and income for farmers, leading to greater food security and economic stability.
Optimize: Advanced Forest Garden management and conservation techniques are imparted to farmers, enabling them to optimize their space and promote the long-term health and productivity of their land. This knowledge empowers farmers to cultivate their resources more efficiently, promoting sustainable practices and improved yields.
Graduate: To ensure a sustainable future, each farmer implements a tailored sustainability strategy. A graduation ceremony commemorates their growth and success, marking a new chapter in their journey towards resilience and self-reliance.
Forest Gardens in Simiyu, Tanzania
The Forest Garden approach was introduced in Simiyu in 2022 by TREES. These gardens provide an array of benefits to farmers and the surrounding ecosystem. They serve as a diversified source of income through the sale of vegetables and timber, ensuring stability and diversity in the food supply. Additionally, these gardens supply fodder for cattle, mulch for composting, fuelwood, and contribute to overall land productivity.
Training and Capacity Building
The success of the Forest Garden program in Simiyu is deeply rooted in the comprehensive training and capacity-building provided to farmers. To ensure the sustainability of these projects, farmers receive instruction on various essential aspects, including nursery establishment, forest garden design, compost creation, water conservation techniques, out planting, and integrated pest management. This holistic approach equips farmers with the knowledge and skills necessary to cultivate and protect their land sustainably.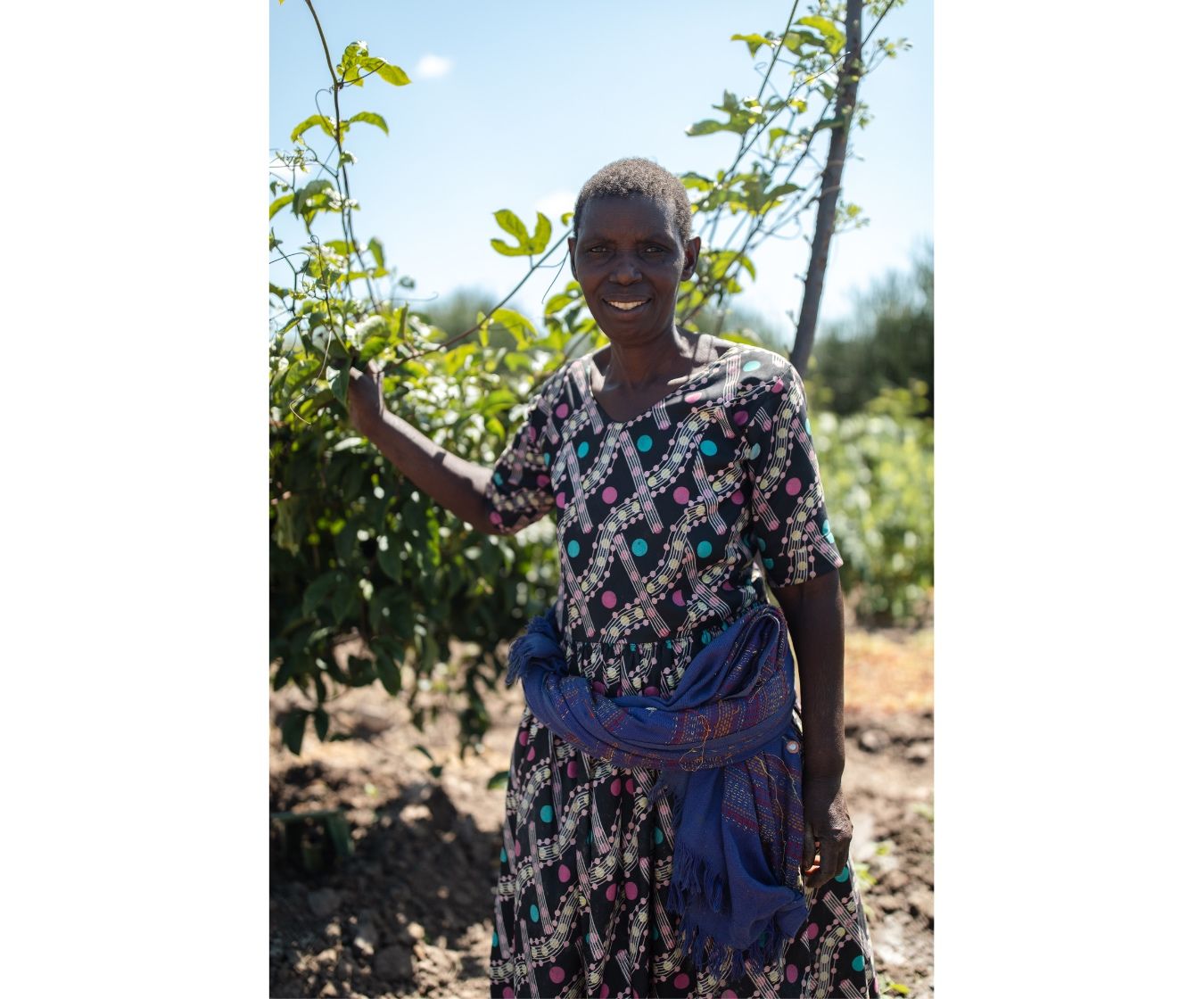 A Botanical Haven
The Forest Gardens of Simiyu boast a rich tapestry of plant species, each playing a unique role in the ecosystem. The live fence trees include Acacia polyacantha (falcon's claw acacia), Leucaena spp. (lusina), and Gliricidia sepium (gliricidia). While the acacia trees form the first line, protecting the land (from wind flood waters, or grazing animals), the second line enriches the soil with nitrogen fixation and the third line, composed of Leucaena spp., contributes to increased biomass. Fruit trees, such as passion fruit, papaya, and guava, offer additional economic opportunities. Vegetable seeds such as okra, Chinese cabbage, onion, amaranth, and tomatoes are provided to farmers, diversifying their crop production.
Planning for Resilience
To ensure the survival and resilience of the newly planted trees and crops, careful planning is essential. Farmers follow optimal planting schedules, allowing trees to establish themselves before the onset of droughts. By synchronizing planting times with the natural cycles, the forest gardens become resilient to challenging climatic conditions, ensuring a higher chance of survival for the trees and greater overall success for the farmers.
The Forest Gardens in Simiyu, Tanzania, are not just a vision of hope but a tangible testament to the power of regenerative agriculture and sustainable land management. Through the Forest Garden Approach, TREES is empowering farmers to reclaim their agency, combat climate change, and uplift their communities. These gardens, nurtured with knowledge, dedication, and a commitment to sustainability, are breathing new life into the Tanzanian landscape and its people.